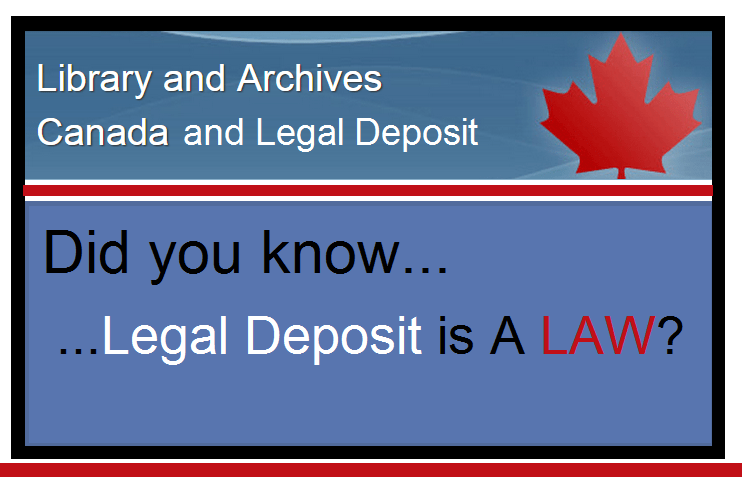 Legal Deposit is a term that most authors have never heard of, but if you are an independently published Canadian author, or have a Canadian-assigned ISBN, you need to know what Legal Deposit means for you.
Why? It's a law. And it must be followed.
It's also a law for UK authors.
For more information on the UK law, visit the British Library.
For more information on Canadian law, read on!
What Legal Deposit Is… and What It Means for YOU
Basically, Legal Deposit is a law that says you have to submit your books and e-books to the Library and Archives Canada to help preserve your Canadian heritage.
You must submit your e-books through their website after creating an account with them.
Use the following image to help you navigate their site (or read a tutorial post on Indies Unlimited, which includes step-by-step screenshots):
Choose the option that says "Online or digital publications" to submit your electronic files.
For physical books, you have to print out this form (or the appropriate form found on the Legal Deposit website that applies to your type of publication) and then ship it, along with your book, to the following address:
Legal Deposit
Library and Archives Canada
395 Wellington Street
Ottawa ON
Canada
K1A 0N4
More About Legal Deposit… from their website
Legal Deposit involves submitting your published work to the Library and Archives Canada.
Legal deposit applies to all publishers in Canada, and to all publications in all mediums and formats. Through legal deposit, all materials produced by Canadian publishers become part of Library and Archive Canada (LAC)'s collection and are available for public consultation and use.
A "publisher" is defined broadly in the Legal Deposit of Publications Regulations as: "a person who makes a publication available in Canada that the person is authorized to reproduce or over which the person controls the content. It does not include a person who only distributes a publication."

Types of publishers include:

trade and small press publishers
academic and educational publishers
periodical publishers
producers of music, video and spoken-word recordings
publishers of multimedia, cartographic and microform materials
federal government departments and agencies
associations, organizations
self-publishers
What Publications are Subject to Legal Deposit?
Legal Deposit applies to publications produced in Canada regardless of medium or format, including, for example:
books (monographs)
serials (journals, periodicals, magazines)
sound, video and spoken-word recordings
multimedia or instructional kits
CD- and DVD-ROMs
microforms
cartographic materials
online or digital publications
The Law
The Library and Archives of Canada Act is a federal statute of Canada that legally empowers LAC to collect and preserve the nation's published heritage.
The Legal Deposit of Publications Regulations defines the classes of publications that publishers are required to send to LAC for deposit and those which are not required unless requested in writing by the Librarian and Archivist of Canada.
Contact Information
Telephone:819-997-9565
Toll-free (Canada): 1-866-578-7777(Select 1+7+1)
Toll-free (TTY): 1-866-299-1699
Fax: 819-997-7019
Email: legal.deposit@bac-lac.gc.ca (Physical or Analogue Legal Deposit)
Email: epe@bac-lac.gc.ca (Digital Legal Deposit)
My Experiences With Legal Deposit
I have self-published two books so far: Risky Issues, and From Nope to Hope: How I Overcame My Suicidal Thoughts (and How You Can Too).
For both books, I created digital and print versions.
I had to submit each type to the LAC, so I did.
Printing Your Digital Book
Print-on-demand companies such as Amazon/KDP can print copies of your book for a relatively low cost.
Your book files need to meet their requirements, too.
For example, Amazon/KDP requires that your text file is specifically formatted and that your cover be submitted as a printable PDF.
When I self-published Risky Issues, I hired one designer to design the cover, and then another to create the cover for my printed book. Not every designer knows how to do both things! However, when I published From Nope to Hope, I hired a designer who knew both formats (and who exceeded all my expectations!).
To create a printable PDF of your book cover for Amazon/KDP:
1. You need to first choose a size for your book.
2. Create your book's text file following Amazon/KDP's submission guidelines so that you know how many pages your book will contain. You need this information so that you can calculate the dimensions of the spine of your book. Your cover designer needs this information, too.
3. Create your cover.
When I self-published my first book, Risky Issues, I learned a lot about Amazon/KDP and the taxation information.
I suggest that you educate yourself on these matters, too!
Self-Publishing Isn't Easy
No one said self-publishing was easy. It's actually a lot of work. It's even harder for a blind man, but this blind man was able to make his e-book available in print.
Of course, he had me to help him!
Do you need self-publishing help, too?
If you happen to need help with converting your e-book to a print book, I can help. In fact, this is one of the services I offer on Wording Well. 😉
As I mentioned already, I have already helped Max Ivey turn his e-book into a print book (and he, in turn, inspired me to finish the process with mine).
Now that I've been through the process a couple of times, I can do the same for you.
Follow the Law!
Whatever you choose to do, make sure you follow the laws governing you and your book!
I'd hate to see you in jail.