I am a public speaker and author. I've appeared in many places, both online and offline.
I've made some wonderful connections with great people, and have appeared on many different sites, for different reasons… for contributions to round-up posts and also for interviews and book reviews.
If you would like me to appear on YOUR site OR book me for a speaking event, just email me!
>>>Jump to email address.(Okay, don't literally "jump." Simply click/tap this link!) 
First, a surprise mention or two…
Because I'm known for my blogging prowess, I was one of the bloggers mentioned in 9 Inspirational Bloggers to Give You a Blogging Boost. I'm listed, too, as one of the 42 Bloggers You Want to Meet.
Contributions to Round-Up Posts
I've been invited to participate in several round-up posts. (Yes, my expert opinion has been sought out!)
I've been invited to participate in several expert round-up posts, from 2014 to the present:

21 Experts Reveal Their Biggest Risk That Paid Off
8 Freelance Bloggers Reveal How to Get Started as Freelance Blogger
70 Freelancers Reveal Their Best Source of New Business
63 Experts Share Their Best Email Marketing Tools
130+ Online Experts Share Their Sleep & Productivity Secrets (also published in Part 1 on the Huffington Post)
Why do New Bloggers Fail in Blogging? Experts Revealed
Successful Entrepreneurs Share Their Success Stories
18 Blogpreneurs Reveal Their Best Monetization Tips to Beginner Bloggers
15 Experts Reveal The Secret To Write Effectively As An Entrepreneur
Experts' Bloggers Tips for Beginners In 2017
A Portfolio of My Guest Posts:
II have also been fortunate to acquire guest posts slots on many blogs. Here they are (the most recent ones are listed first):
More guest posts will be added soon!
Podcasts and Interviews
In September 2018, I appeared on SouldSpark, an online live radio show. You can listen to a recording of it on Spreaker.
In August 2018, I spoke to Heather Vickery and Marilyn Shannon about being on their shows. Heather hosts a podcast called The Brave Files Podcast, and Marilyn hosts an online TV show. I am not sure I want to pay to be on Marilyn's show, so that has not happened yet. I'm scheduled for December 11th for my podcast with Heather.
In July 2018, I did a podcast with Brian King. Find it on YouTube, called STIMGA FREE ZONE: Premiere with Lorraine Reguly. I was also featured on BloggerMeet: Interview with Lorraine Reguly of Wording Well. Then I did a podcast with James Snow from LegacyCast, which you can listen to on Youtube, iTunes, Spotify, or Podbean. You can also download the mp3.
I also did a podcast with Diana Todd-Banks from Mature Preneurs Talk. You can find this podcast everywhere! It's on her website, on SoundCloud, on TuneIn, on PlayerFM, and on iTunes.
In June 2018, I did a podcast with Louise Armstrong. Listen to The Secret to Happiness
from Let's Talk Relationships and Life.
In May 2018, I was featured in a special interview on Traffic Crow. Read the Interview With Lorraine Reguly From Wording Well.
In April 2018, I was on Live Your Fuel with Scott Mulvaney. Listen to the podcast A Story of Overcoming Suicide or watch the video on YouTube.
In March 2018, I was a guest on The Curvy Life podcast, hosted by the talented Suzie Carr. She made a teaser video, which she posted on YouTube. The podcast is titled From the Edge of Suicide to Unstoppable: A Blogger's Triumph.
In February 2018, I did three podcasts. First I spoke with Henry Kaminski on The Brand Doctor Podcast. Then I talked with Maxwell Ivey, on his podcast. Watch and listen to What's Your Excuse? with guest Lorraine Reguly here. Then I had a chat with Jess Dewell from The Voice of Bold Business. We talked about The Importance of Transparency in Relationships (P139).
In January 2018, I was featured in How Being Raped Led this Woman to Success: The Story of Lorraine Reguly AND I was interviewed by Monna Ellithorpe: Meet The Author With Lorraine Reguly. I was also featured on the My Future Business Show Podcast with Rick Nuske. Plus, I was featured on Trainer Hangout: Lorraine Reguly on Overcoming Failures. and in Adeel Sami's Interview with The Woman behind Wording Well.
In late 2017, I was the first person to be interviewed for an online magazine, too. Read In Spite of All Odds: The Inspiring Story of Loraine Reguly.
My city's library site posted An Interview with Lorraine Reguly.
You can read my Smashwords Interview, too!
In addition to this list of many places I've guest posted as a blogger and freelancer, I've appeared on the following sites somehow (either via an interview, a book review, a promotion, etc.):
And if you want to become an author and don't know where to start, llisten to the podcast I did with Butterflies of Wisdom host Win Kelly Charles (an author who has Cerebral Palsy).  November 28, 2017.
20 Questions with Lorraine Reguly August 5, 2016. Don Massenzio
Podcast With Lorraine Reguly, Author of Risky Issues June 12, 2015. Authors Talk About It
Lorraine Reguly: Prostitution Paid More than Teaching and Freelance June 11, 2015. Writer Town
Four short stories by a determined young author on a mission, Lorraine Reguly June 8, 2015. Booktalk With Eileen
Podcast #379: LORRAINE REGULY: FROM HELL & BACK FOUR TIMES May 27, 2015. Join Up Dots
Writing Straight With Crooked Lines: Lorraine's Story May 9, 2015. Light Up the Darkness
Rape, Drugs and Prostitution — One Blogger's Journey to Success March 18, 2015. Sylviane Nuccio
~ In this post, I bare my soul. It's easily the most inspiring and revealing post I've ever written.
My Love-Hate-Love-Love-Love Relationship with the Techno Life and Writing March 24, 2015. When Women Inspire
Confessions of a Freelance Writer: Interview With Lorraine Reguly February 12, 2015 Innovative Ink
Featured Author Lorraine Reguly  November 26, 2014 Book Reader Magazine
Book Review Spotlight – Risky Issues by Lorraine Reguly October 28, 2014 And So It Begins …
Latest Release: Risky Issues: Stories About Identity, Drugs, Abuse, Death and Friendship September 15, 2014.  The Fiction of Owen Thomas
Risky Issues" by Lorraine Reguly September 14, 2014.  New Book Journal (link removed due to site being removed)
Risky Issues by Lorraine Reguly | Book Review September 12, 2014. The Confetti Girl
Risky Issues and Lorraine Reguly (Information + Interview) September 5, 2014. Vashti Quiroz-Vega's Blog
Fiction Friday with Lorraine Reguly August 22, 2014. Jamie Lynn Miller
~ I have to confess that Jamie and I had a wonderful and somewhat hilarious conversation in this "interview"!
Risky Issues is a Book of Short Stories New on the Market August 22, 2014. Yvonne Hertzberger, Fantasy Author
~This post reads more like a press release than a blog post, and I'm grateful to Yvonne for helping me spread the word about Risky Issues.
Meet Guest Author Lorraine Reguly August 18, 2014. Chris The Story Reading Ape
~ This post is strictly a promotional post, mainly for Risky Issues. 😉
The Good and the Bad of Being a First-Time Self-Published Author August 3, 2014. Indies Unlimited
~ This post mentions a couple of my regrets…
 When to Use Fiction to Tell True Stories July 17, 2014. Treasure Chest of Memories
~ Author Laura Hedgecock uses my book as an example to teach others. I'm flattered at the way she incorporated my book into her teachings!
Author Interview: Lorraine Reguly on Reaching a Milestone  Wednesday, July 2, 2014. Wordlovers by Melissa Bowersock
Review: Risky Issues-A collection of short stories by Lorraine Reguly June 22, 2014. Friendly Book Worm
~ By far, the most informative interview that aspiring writers could want!
* * * * *
Magazine Contributions
I was featured in the spring edition of Northwest Women!
I was actually invited to write an inspiring article about my life, to provide hope to women and to help other women overcome their own obstacles.
This magazine was included as an insert in my city's newspaper on Saturday, May 26th, 2018.
You can find it online, too. It's called It's Never Too Late to Change.
Public Appearances
I have spoken about overcoming suicidal thoughts (and my book, From Nope to Hope) at the Thunder Bay Waverly Resource Library (in June 2017). Another local author spoke during this event too.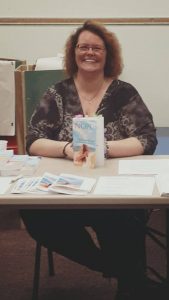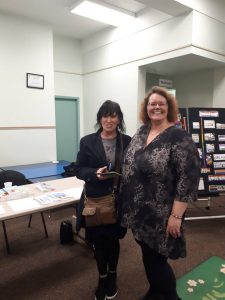 I've read poetry several times at The Creative Art Gallery in Thunder Bay, during their poetry nights.
I've also made a motivational video, which you can listen to here:
Request an Appearance
If you'd like me to appear on your site, in a podcast or post, or speak to me in some other capacity, please don't hesitate to contact me! Simply email me at lorrainemariereguly (at) gmail.com!
>>> Go back to the top of this page